Ashmyany Synagogue (1918 - 1939) by Aleksandra Krawczyk [OBJ]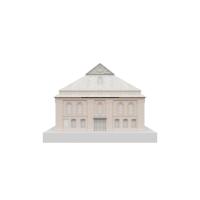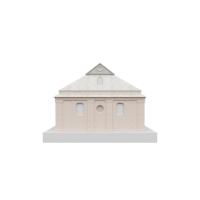 Model Description
[Polish]
Synagoga w Oszmianie
Została wzniesiona w latach 1908 - 1910 w Oszmianie według projektu nieznanego autora przy obecnej ulicy Sowietskaja. Murowana świątynia była wysoka na 15,5m i posiadała tradycyjny układ wnętrz powtarzający tradycyjną XVIII wieczną bożnicę o jednonawowej sali.
Konstrukcja dachu była trzykondygnacyjna a pokrycie stanowił gont, we wnętrzu wbudowano ośmioboczną drewnianą kopułę. Charakterystyczne dla niej jest oparcie na prostokącie zamiast kwadracie - kopuła jest minimalnie szersza w jednej z osi. Zdobienie kopuły było stonowane - niebieskie z jasno brązowymi akcentami na załamaniach. Bima ukazana jest wyłącznie na rzutach synagogi. Jej bryła przedstawiona jest w bardzo uproszczony sposób - nie jest jasne czy synagoga posiadała prostą, kwadratową Bimę, czy jest to jedynie interpretacja bardziej skomplikowanej formy. Element ten nie zachował się do czasów obecnych ale pominięcie go na rysunkach przekroi może sugerować, że na rzucie przedstawienie Bimy zostało znacząco uproszczone. Istniejąca dokumentacja nie przedstawia istnienia w synagodze Aron ha-kodeszu.
Użytkowana była do wybuchu II Wojny Światowej a od 1945 roku znajduje się na terenie Białorusi. Obecnie nieznane jest jej przeznaczenie. Budynek popadł w ruinę a dach zabezpieczony jest blachą. Wiele okien zostało zamurowanych a wejście do budynku wybite zostało w miejscu tradycyjnej lokalizacji Aron ha-kodeszu w synagogach.
Cyfrowa rekonstrukcja powstała głównie w oparciu o źródła z publikacji "Bramy Nieba. Bożnice murowane na ziemiach dawnej Rzeczypospolitej." autorstwa Mari i Kazimierza Piechotków.
RECONSTRUCTED PERIOD
1918-1939
OBJECT
Object Name
Ashmyany Synagogue
Object Alternative Name(s)
Synagoga w Oszmianie [pl]
Object Category
Single Built Work
MODEL COPYRIGHT
Model License
Attribution-NonCommercial-ShareAlike (CC-BY-NC-SA)
AUTHOR(S)
Author Name
Aleksandra Krawczyk
Author Affiliation
Warsaw University of Technology
Holder (Organization)
Holder Name
Faculty of Architecture of the Warsaw Univeristy of Technology
MODEL CREATION
Creator(s)
Creator Name
Piotr Kuroczyński
Creator Affiliation
Hochschule Mainz - University of Applied Sciences
Creation Time Span
2022-03-17 — 2020-05-19
PROJECT
Project Name
3D Rekonstrukcja Synagog Seminarium wybieralne na 8. semestrze, Studia Architektury na Politechnice Warszawskiej
Project Outcome(s)
report
3d representation
AR/VR application
Project Time Span
2022-03-17 — 2022-05-19
Project Description
In the course Digital Reconstruction of Lost Architecture, 3D digital reconstruction based on historical sources is taught along with visualization of lost architecture. The topic is the architecture of wooden synagogues in the former Republic of Poland, destroyed during World War II, documented in the collection of the Department of Polish Architecture at the Faculty of Architecture of the Warsaw University of Technology during the interwar inventory. As part of the course, students learn to critically examine historical sources, and 3D modelling on the basis of pictorial representation. Interpretation of sources and hypothetical reconstruction aims to convey the method of digital reconstruction as a research tool and to highlight the potential and challenges in the context of the growing demands of the Digital Humanities. Students thus learn about architectural history, 3D modelling and visualisation through analysis and interpretation of sources. An important topic of the course is the issues of data interoperability, documentation and publication of digital 3D models for far-reaching applications in the fields of urban planning, city management, tourism, etc., among others. (digital city models, AR and VR technologies).
Project Participant(s)
Participant Role
Conceptor
Authored on
Tue, 01/18/2022 - 15:29